Honoring Our Police During National Police Week
I grew up with a strong sense of pride in and admiration for the work law enforcement officers do to protect us and our communities. My uncle was a New York State Policeman and my father was the Chief Store Detective for a large department store. Living an honest life and appreciating the dedication & commitment police men and women bring to their job to keep us safe has always been a part of who I am.

This came full circle in 2003 when our son attended the Police Academy while staying with us. Learning first hand each night over dinner what goes into the training of a police officer and the values set forth by the police department made me prouder than ever, not just of my son, but of all law enforcement officers everywhere.

This page is dedicated to our police officers in all branches of Law Enforcement, and recognizes them particularly during National Police Week each May.
National Police Week in 2018


May 13-18, 2018


The Week includes Peace Officer Memorial Day (May 15th).
Origin of National Police Week - And Peace Officer Memorial Day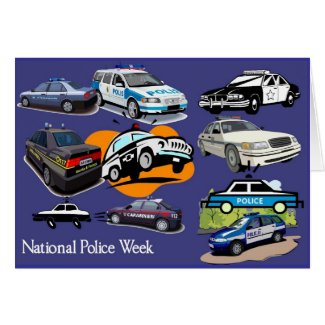 Police Week Greeting Card 3 by mannybell
Design unique personalized note cards from zazzle.com.
President John F. Kennedy signed a proclamation in 1962 which designated May 15th as 'Peace Officers Memorial Day' and the week in which that date falls as National Police Week.
The Police Patrol in Various Ways. . .
TRAFFIC COP
BY POLICE CAR
ON HORSEBACK
MOTORCYCLE OFFICER
Note: Photographer C.K. Roberts states: "To get this shot, I laid on the ground and asked the officer to drive by me. He drove by me faster and faster, closer and closer, until I got this photograph."
National Law Enforcement Memorial
A Candlelight Vigil is traditionally held on May 13th, regardless of the day of the week on which it falls. National Peace Officers Memorial Day Service, hosted by the Fraternal Order of Police and the Fraternal Order of Police Auxiliary is always held on May 15th in honor of our Fallen Officers.
Get involved with the National Law Enforcement Officers Memorial Fund by hosting an event to raise funds for the Memorial Fund and the National Law Enforcement Museum.
It is a simple way to help promote the work of the Memorial and Museum and provide funding for either Memorial programs or the Museum capital campaign, "A Matter of Honor."
National Law Enforcement Officers Memorial Fund
The Memorial Fund conducts a variety of programs and events each year to honor those law enforcement officers who have made the ultimate sacrifice and to increase public support for the law enforcement profession.
Events to raise funds for the Memorial Fund and the National Law Enforcement Museum often include:
Walks or Runs

Bike Race

Golf Tournament

Local Raffle

Concert
They also team up with numerous sporting events, such as Major League Baseball games, to hold 'Appreciation Events' to raise awareness and honor America's Law Enforcement Officers.
Badge of Honor - Police Badge
A police badge is a symbol of authority granted by taking an oath and it contains the insignia of the organization it represents.
In the United States, police badges are usually made of metal in various colors and finishes and are worn above the left chest pocket on the uniform shirt or jacket.
Blue Mass - National Police Week
Honoring those who have given their lives in the line of duty.
National Police Wives Association
This is a charitable organization dedicated to supporting law enforcement spouses Created with the goal of helping police spouses and family members face the daily struggles of being in a law enforcement relationship.
Click here to learn more about the National Police Wives Association
A Police Officer and his Family
Police Academy Graduation - Swearing in Ceremony (personal photo)
It was a proud moment when our son completed the Police Academy and was sworn in as a police officer.
Proud Parents of a brand new police officer